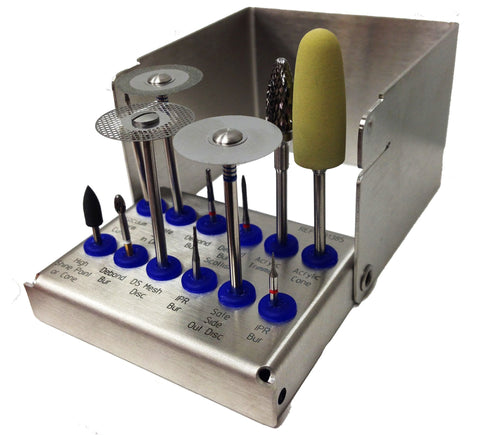 Pro Series Orthodontic Bur Kit
The Pro Series Orthodontic Bur Kit contains the highest quality burs, discs and polishing tools manufactured today. Our diamond-coated products are manufactured in Germany with a patented process that creates the most evenly coated and durable diamond products on the market. Our process controls diamond embedment for an even and long lasting coating. This embedment process give you longer lasting burs and discs, which means more uses and money saved.

The Pro Series Orthodontic Bur Kit is your "go-to" block to satisfy your orthodontic needs - Appliance Adjustment, removing composite and cement after bracket removal, IPR and clear tray maintenance.
The kit includes: Lab Bur for reducing acrylic on appliances, an Appliance Acrylic Polishing Cone, Blade Carbide Burs for removing leftover composite, a not too big and not too small 18mm Mesh Diamond IPR Disc, Safe Side in and Safe Side out 18mm Diamond IPR Disc, a Vacuum Form Cutter, Bulk IPR Carbide (approx 1mm reduction width), a thin Mosquito Diamond IPR bur (approx .40mm reduction width).
---
We Also Recommend