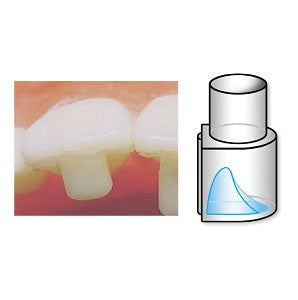 Incisor Block Mini-Mold™
Incisor Block Mini-Molds are ideal for immediate bite opening in deep bite cases. The molds create cured resin turbos and are placed on the lingual surface of the upper centrals. They are available in 3mm and 5mm sizes. Patients with more overjet require the 5mm size in order to engage the lower incisors when biting.
When placing the mold for bonding of each central, the exterior flat surface of the mold should be parallel to and at the same distance from the incisal edge of the central incisors. The molds should be placed roughly in the center of the tooth but the ideal position of the resulting turbo is to create sufficient bite opening to place mandibular brackets.
After curing, the contacts can be easily adjusted to balance the occlusion.
Includes 8 molds.
---
We Also Recommend